Read Time:
7 Minute, 40 Second
The popularity of drones has taken off in recent years and GPS (Global Positioning Systems) drones are now at the forefront. GPS drones are drones with assisted-flight features that help you to keep your drone stable with greater precision and range while also helping to prevent damage or crashing during flight. These features include Obstacles Avoidance, Return Home Mode, Position Hold and much more. Our collection of GPS drones below incorporates additional satellite technologies that not only ensure your drone's safety but also to help you captures the best aerial photos and videos.
 Parrot Bebop 2
Priced From $322USD
The Parrot Bebop 2 is a great drone to have. It has GPS along with tons of features and is remarkably easy to fly by either an iOS and Android device or by the dedicated Sky controller tablet which gives a more controlled satisfying flying experience.
It has a really impressive flight time of 25 minutes, there's also an emergency cut-out feature which will stop the rotors if it comes in contact with any obstacle. The image quality is pretty decent but it lacks the quality and sharpness of a more powerful drone.
The Bebop 2 doesn't use a digital camera stabilizing system but instead favors a mechanical gimbal to keep videos steady and will also pan down with the camera moving. The Parrot Bebop 2 is the drone to get if you're budget is in the $300 price range, it's easy to operate with a flight time of 25minutes.
---
DJI Mavic Air
Priced From $799USD
The Mavic Air is one of DJI's latest for 2018. It combines the best features from the Spark and the high-end Mavi Pro, plus some new capabilities that makes it one of the absolute best drones one the market. This powerful little drone can fold up very easily making the ideal drone for travel. It has a flight time of up 21 minutes and a range of up to 2.4 miles which is pretty impressive considering its size.
The camera with its 3-axis gimbal is capable shooting HDR photos and 4K videos at 30fps (frames per second) or you can drop to 120fps (frames per second) at 1080p for slow-motion videos. The camera features also include 32-megapixel spherical panorama and also active tracking of moving subjects like the DJI Spark.
This drone can be flown entirely with hand gestures that now includes taking off and landing. There are sensors in the front, back and on the bottom that lets the Mavic Air know just where it is in the environment. It can use that information to avoid hitting obstacles by navigating around or over them, even if it's flying backward. You can record to its 8GB of internal storage or a micro SD card.
DJI Mavic Pro
Priced From $920USD
The DJI Mavic Pro is an extremely powerful lightweight portable drone that can fold up easily to the size of a milk carton. It has a flight time of 27 minutes and a range of up to 4 miles with a maximum speed of 40mph  thanks to its powerful battery. The Mavic is much smaller and quieter than the Phantom 4 with almost identical image quality. There's GPS navigation and satellite for accurate location control. The Mavic Pro will dodge any obstacle that could potentially knock it out of the sky thanks to obstacle avoidance.
You're able to shoot awesome footage in 4K video, with autofocus and image stabilization, you can even live stream to Youtube, Facebook, Periscope, and also capture stills with the 12-megapixel camera. The Mavic Pro has gesture control so you can make it follow you around by just waving your arms in the air. You're able to fly the Mavic Pro via WiFi using iOS or Android smartphone or you can use the pocket-sized controller with integrated smartphone holder for even better control and longer distance. It will land automatically in the exact spot that it took off from.
---
Autel Robotics X-Star Premium
Priced From  $1,200USD
The Autel Robotics X-Star Premium is one of the best drones on the market. It features a 4K Ultra HD video camera with quick-release 3-axis stabilizing gimbal and dual GPS/GLONASS positioning. The 12-megapixel 4K UDH camera is one of the best cameras you can find on a drone in this price range. You're able to capture live high-quality videos and very sharp photos.
The X-Star will handle a range of up to 1.2 miles and can stay in the air for 25 minutes on a single charge. All recording are stored immediately on the included 64GB memory card. The X-Star is equipped with Autel Robotics  SecureFly technology which helps the drone to come back home safely. If your looking for a great alternative to the DJI Phantom this Autel Robotics X-Star Premium drone is a great option.
DJI Inspire 2
Priced From $2,929USD
DJI is the king of drones, they are way ahead of the pack and the Inspire 2 just cements that. It's the ultimate drone that's perfect for a professional videographer. The Inspire 2 is made from magnesium and carbon fiber with large motors that are powered by dual batteries. This makes it lightweight and fast topping out at 58 mph with a flight time of 27 minutes.
The landing gear is retractable so the camera operator will be able to shoot 360 degrees panorama view. Just like its much cheaper DJI siblings the Inspire 2, it has forward, downward and upward facing obstacle avoidance to give you that extra security and confidence while flying.
The camera lens and sensors are attached to the gimbal and the Pro-Spec CineCore 2.0 image processing is located inside of the nose of the drone, so you can change the camera lens very easily without a hassle. This is a phenomenal piece of machinery that produces quality of the highest order.
---
MJX BUGS 2W
Priced From $254USD
The MJX Bugs 2W is one of the best drones you can buy in this price range. You get an impressive flying range of up 1000-1500meters and with FPV ( Real-time First Person View video) a distance of up to 500 meters. This GPS drone can stay in the air for up to 18 minutes on a single charge.
By installing the MJX Bugs Go app on your Android or iOS mobile device you'll be able to get live video feeds from the onboard camera. The camera has an integrated wide-angle CMOS sensor that will record 1080p HD videos straight to a microSD card or on your smartphone via MJX Bugs Go app. Like most of the drones on this list, this drone has altitude hold and the ever popular headless mode that helps to provide the best flying experience.
It has a return home feature which makes sure the drone automatically return to the same place it took off from if it loses signal from the controller for longer than 6 seconds. The MJX Bugs 2W is a little over our $250 budget but its well worth it.
---
Upair One Drone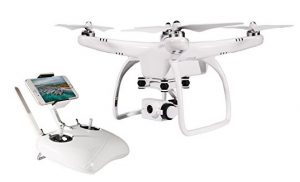 Priced From $299USD
This Upair One Drone offers great performance at a reasonable price. It has a flight time of 19 minutes and it can handle a range of up 1000 meters, which is pretty impressive for the price. On board is a 2.7K ULtra camera which captures good quality photos and videos. You're also able to live streaming HD videos from up to 800meters away. The Upair features all the lasted features for safety and ease of flying and handle. The Upair One Drone is the perfect cheap alternative to the DJI Phantom drones.
---
Have your say below if you have purchased any of these awesome GPS Drones above, please share your experience with us. If you have any questions about these or any other Drones please comment below.
Read Next: